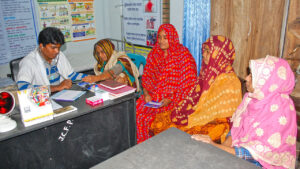 Jagorani Chakra Foundation (JCF) in its every intervention put priority on the interest of the beneficiaries and their family members. The Health Support Project is no exception of this. The objectives of this project is to aware the reproductive health knowledge of Microfinance Program's (MFP) women beneficiaries, ensure such services for them from govt. and non-govt. service centres, reduce the rate of malnutrition, decrease the outbreak of communicable diseases and provide free operation for gynecological problems. JCF is providing necessary fund from its own source to ensure women's health and make them free from humiliating conditions. The operations are conducted at private clinics through Govt. Hospital doctors. The criteria of receiving support from this project are:
Poor women members of MFP or other women family members.
Have the record of regular savings and installment deposit.
Selected by respective branch office.
Age-below 70.
No defaulter member will be allowed to get this service but in any serious accident-if any member has few overdue then with the recommendation of concerned branch manager the member or women family member could get the support.
All the associated costs start from the primary diagnostic costs, medicine, treatment and hospital costs and operation costs are provided from the project the patients only bear the food and travelling cost of going to the specific clinic. But for extreme poor members JCF bear these costs also. There are 10 Health Officers who have 4 years health degree deployed at field level and one Manager is supervising her. Since the project inception in December 2015 a total of 1,535 women are operated and of them 03 died and rest of the women are living healthy lives. The women are operated for prolapsed, uterus tumor, breast tumor, uterus infection, perennial tear, piles-fistula-anal fisher, eye operation and hernia.